416th Bombardment Group (L)
670th Bombardment Squadron (L)
Operations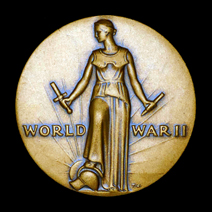 Return to Table of Contents
---
A-20G tail #227 of the 670th Bomb Sq. lands at Wethersfield
following a mission over France on 8 May 44.
Flight of 670th Bomb Sq. A-20s over France, May 1944
A-20G "Miss Laid", 670th Bomb Squadron
Miss Laid depicted as La France Libre by artist Roberto Valentini for Italeri S.p.A.
A-26 aircraft of the 670th Bomb Sq. (code F6) in line for take off at Laon-Athies Aerodrome, France
A-26 Invader "Peggy", 670th Bomb Sq. (photo courtesy of R. B. Singletary)
A-26 Invader "Angel of Mercy", 670th Bomb Sq.
Lt. Wes Chitty and crew (photo courtesy of Wes Chitty)