416th Bombardment Group (L)
James Donald Adams
Lt., Pilot
March 7, 1918 - June 6, 2005
671st Bombardment Squadron (L)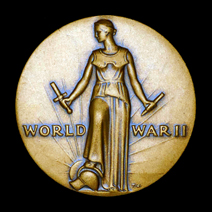 Return to Table of Contents
---
Adams, James D.
Former School Board Official
Age 87

Of Minneapolis, MN, on June 6, 2005 after a short illness. Preceded in death by parents, Chris S. and Flossie (Roscoe) and wife, Muriel.

Jim graduated from Purdue University in 1942 with a degree in Mechanical Engineering. During World War II he was a member of the 416th Bomb Group and flew 65 combat missions in the European Theatre of Operations earning the Distinguished Flying Cross and the Air Medal (13 Oak Leaf Clusters). After the war, Jim returned to the Niagara area, and was married to Betty (Terryberry) for eighteen years. He obtained his professional engineering license in 1948 and was employed at Hooker Co. (1946-1947), Moore Business Forms, Inc. (1947-1949) and Oldbury Electro-Chemical Co. (1949-1954). In 1954 he went into business with his father and together they built many residences in the Lewiston/Niagara Falls area. In 1961 Jim started working for the Niagara Falls Board of Education as Director for School Planning, Operations and Maintenance where he remained until he retired. Jim was also active in the Lewiston Kiwanis Club during the years when the "Peach Festival" was started in Lewiston and he was a member of the Niagara Frontier Country Club in Youngstown, NY. Jim remarried in 1964 to Muriel (Gauthier). They retired to Carolina Trace Country Club in Sanford, NC in 1986 where they resided until her death in 2003.

Survived by sister, Esther Woodring, Lewiston, NY, sons, Christopher (Mary), Minneapolis, MN, Stephen (Lisbeth), Grand Island, NY, step-son Michael (Cindy) Rock, Hanover, PA; daughter Sharon (Robert) Lavelle, Springfield, VA and step-daughter Joanne (Michael) Bean, Bunker Hill, WV, nine grandchildren and three great-grandchildren.

Internment will be in the Riverdale Cemetery in Lewiston, NY. Final funeral arrangements are pending. Memorial donations may be made to Rose of Sharon Manor, 1000 Lovell Street, Roseville, MN 55113 or the Alzheimer's Association, 225 N. Michigan Ave., Fl. 17, Chicago, IL 60601-7633.
Obituary from the Niagara Gazette
---
"Goin' Home" courtesy of the U.S. Air Force Band