416th Bombardment Group (L)
Roger Marcel Roy
Sgt., Airplane and Engine Mechanic
January 19, 1923 - January 18, 2010
671st Bombardment Squadron (L)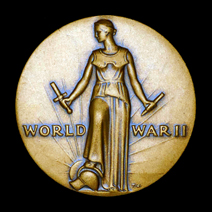 Return to Table of Contents
---
Mr. Roger Marcel Roy
January 19, 1923 - January 18, 2010
Paso Robles, California

Roger Marcel Roy passed away on Monday, January 18, 2010 at the age of 86. The eldest son of Adelard Louis Roy and Antoinette Louise Ethier, he was born in Woonsocket, Rhode Island on January 19, 1923. He had one brother, Normand Roy who died when he was 17. His sister, Pauline Haas, survives him.

Roger was a veteran of World War II who served his country in the European theater in the Army Air Corps, 416th Bombardment Group, where they participated in many missions over France and Germany including 3 sorties on D-Day. The Group moved to France 90 days after D-Day where they stayed until the end of the war in 1945. He served his country proudly and with quiet dignity.

Roger married the love of his life, Josephine (Josie) Florence Savini, September 18, 1943 in Lake Charles, Louisiana. After the war they lived in Woonsocket, RI until 1947 when they moved with their son, Richard, along with Rogerís sister and parents to California. California was home to four more children, family, numerous pets and many friends. Roger was a teacher by trade and loved children. He worked for many years as a teacher for the Los Angeles City School system at Columbus Jr. High in Canoga Park until retirement in 1980.

Roger loved traveling with his Josie throughout the United States, Canada, Mexico, Europe, the Caribbean and South America. He felt most at home behind the wheel of his Suburban pulling his travel trailer all around North America.

Roger loved his family and will be greatly missed, especially his signature smile and sense of humor with the uncanny ability to find humor in just about anything. His quick wit will always be remembered.

Roger leaves his lovely bride of 66 years, Josephine Roy of Paso Robles, California. He is survived by his five children: Richard Roy and his wife Celsa Spina of La Jolla, California; Roberta Roy, of San Diego, California; Russell Roy of Holualoa, Hawaii; Steven Roy and his wife Patricia Wymond of Arlington, Washington; Karen Roy and Sharon Newman of Richmond, California; and grandson Tyler Roy of Holualoa, Hawaii.

On Thursday, January 28, 2010 at 7:00p.m. there will be a rosary for Mr. Roy at Kuehl-Nicolay Funeral Home in Paso Robles. On Friday, January 29, 2010 at 1:00p.m. there will be a mass for Mr. Roy at St. Rose of Lima Church at 820 Creston Road, Paso Robles, immediately following the mass there will be an inurnment, with color guard and gun salute at Paso Robles District Cemetery in Paso Robles. Following the inurnment there will be a reception at Dragon Palace King Buffet, 825 Spring Street, Paso Robles, Room "G".
Tributes.com Roger Marcel Roy Online Obituary
---
"Goin' Home" courtesy of the U.S. Air Force Band