416th Bombardment Group (L)
Francis McVey "Frank" Peppiatt
Aircraft Armorer
March 15, 1923 - November 26, 2009
671st Bombardment Squadron (L)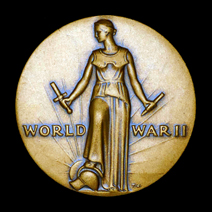 Return to Table of Contents
---
highest known rank
and photo needed
mail to
archive@416th.com
---
From the Ellsworth County Independent Reporter, Nov. 27th, 2009
Francis "Frank" McVey Peppiatt, 86, died Thursday, Nov. 26, 2009, at the Rice County District Hospital, Lyons.
Mr. Peppiatt was born March 15, 1923, in rural Ellsworth County to Francis Joseph and Clara Adelia Livingston Peppiatt.
He moved from Ellsworth County to Lyons in 1953. He worked for Southwestern Bell Telephone Co.
for 38 years and was a veteran of the U.S. Army with service during World War II with the 671st Bomb Squadron.
He was a life member of American Legion, VFW, Masonic Royal Lodge 192 and Odd Fellows Lodge, all at Lyons,
and a member of the National and Kansas Knife Collectors Associations, the Kansas and National Rifle Associations,
C.W.A., Rice County Historical Association and the State Historical Society. Mr. Peppiatt portrayed
Coronado in a 1961 parade from Independence, Mo., to Santa Fe, N.M. — the Lyons Unit was one of 33 other towns represented in the 1961
celebration. His likeness was used for 25 years or so on Chamber of Commerce members' letterheads. The same likeness also is in the lobby
of the Rice County Courthouse. He married Helen A. Zvolanek March 4, 1947, at Abilene. She died Aril 9, 2007.
He also was preceded in death by three sisters, Patricia Ellen Peppiatt, Ramona Ann Lerma and Jean LaVerne Leal.
Survivors include a sister, Betty Jo Culley of Petaluma, Calif., and many nieces and nephews.
The funeral will be at 10:30 a.m. Tuesday, Dec. 1, at the Birzer Funeral Home, Lyons, the Rev. Robert Friesen officiating. Burial will be in
Lyons Municipal Cemetery, with Masonic graveside honors and military honors by the Fort Riley Honor Guard.

"Goin' Home" courtesy of the U.S. Air Force Band