416th Bombardment Group (L)
James E. Kerns
1st Lt., Bombardier/Navigator
1921 - January 8, 2008
671st Bombardment Squadron (L)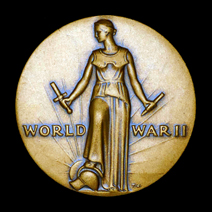 Return to Table of Contents
---
---
From the Akron Beacon Journal, Akron, Ohio, 10 January 2008:
CUYAHOGA FALLS -- James E. Kerns, 87, died January 8, 2008.
Mr. Kerns was born in Gainesville, Ga., and had resided in Cuyahoga Falls for 50 years, moving there from Akron. He retired in 1985 as Vice-president and General Manager for Betsy Ross Foods and was a member of the Church in the Valley and MAPS. He was a veteran of World War 2 having served as a bombardier navigator for 416 Bombers Group, 671st Bomb Squad, Army Air Corps.
He is survived by his wife, Eileen, with whom he would have celebrated 62 years of marriage on January 30; son and daughter-in-law, Dan and Kathleen of Masury, Ohio; daughter and son-in-law, Kathy and Dan Blankenship of Centennial, Colo.; grandchildren, Mike and James Kerns, Mike and Darrell Antram, Brian (Gwen) Myers and Brenda (Matt) Swanson; and sisters, Mildred Clark and Ruth (Dale) Caler, both of Cuyahoga Falls.
There will be no calling hours. A graveside service will be conducted at 2 p.m. Friday at Northampton Cemetery and a Memorial Service will be conducted at 2 p.m. Saturday in the Church in the Valley, 2241 Everett Rd., Peninsula, Ray Notarian officiating. Memorials may be made to New England Air Museum, 10 Virginia Lane Simsbury, CT 06070 or MAPS Air Museum, 2260 International Pkwy., N. Canton, OH 44720.
"Goin' Home" courtesy of the U.S. Air Force Band