416th Bombardment Group (L)
A-26 ETO Combat Evaluation
Historical Summary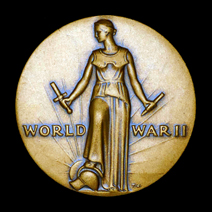 Return to Table of Contents
---
What does the A-26 ETO Combat Evaluation have to do with the 416th Bomb Group?
The Douglas A-26 Invader aircraft was introduced to the European Theater of Operations (ETO) by the A-26 ETO Combat Evaluation Project Squadron. These men flew Invader aircraft on eight Combat Missions during the month of September, 1944 to evaluate and determine the suitability of the A-26 in actual combat situations. After these successful missions, the A-26 ETO Combat Evaluation Project Squadron and associated Mobile Training Units moved to Station A-55, Melun, France to train the 416th Bomb Group on the Invader in October 1944, then on to the 409th and 410th Douglas A-20 Havoc Bomb Groups, followed by the European Martin B-26 Maurader Groups.

Many of these Project Squadron personnel subsequently joined the 416th BG. While many of the Project Squadron aircraft were used in the 416th BG A-20 to A-26 transition training, none participated in subsequent 416th Combat Missions.
A-26 ETO Combat Evaluation Personnel
A-26 ETO Combat Evaluation Aircraft
---
USA Training
The "Case History of A-26 Airplane" includes several important documents related to the planning and successful accomplishment of the Combat Evaluation of the A-26 Invader in the ETO.

One of these documents (#64) is a May 18, 1944 "Memorandum for Deputy Chief of the Air Staff (Brigadier General Timberlake)", "Subject: Introduction of A-26 Aircraft to the European Theatre". This Memo details the requests for eighteen (18) A-26's (proportion of 1/3 bombardier (glass) nose (A-26C), 2/3 gun (solid) nose (A-26B)) and 18 trained crews to be ready for departure by 1 August 1944. Colonel John R. Kelly was assigned project officer for this movement to monitor the project and go with the airplanes overseas. The Memo further notes that an original idea of having the 18 A-26's ferried to the ETO by Air Transport Command would cause Combat Evaluation delays because it would require two separate training periods - one for the Air Transport Command crews to ferry the aircraft (since they were not yet familiar with the A-26), the second for the B-26 combat crews already in the theatre. A better plan was to rapidly train experienced twin-engine aircraft instructor pilots currently in the States prior to the 1-Aug-1944 planned departure, have them ferry the A-26's to England, fly the Combat Evaluation missions and then assist with the conversion program of the Groups already in Europe.

Section 3 of this Memo outlines the plans for subsequent "Conversion of B-26 groups in the United Kingdom to A-26 type aircraft", including paragraph 3.a as follows: "Four (4) A-26 Mobile Training Units, consisting of nine (9) to eleven (11) instructors and complete mockups, turrets, sighting stations, computers, hydraulic systems, etc., are en route to the United Kingdom along with four (4) A-26 aircraft which are to be assigned to one Group until the ground crew conversion is accomplished, after which they are to be moved along with the mobile training unit to the next group to be converted.".

This Memo likely caused the initiation of Special Orders No 205, Project 3AF JY 30 Class TM 0725, forming the 18 crews into the A-26 ETO Combat Evaluation Project Squadron. [Roeder, p13]

Most men of the Project Squadron began their A-26 training May through July of 1944 in the USA with the 335th Bombardment Group (Medium), a Martin B-26 Marauder combat crew Operational Training Unit (OTU) transition school at Barksdale Field, Louisiana. For example, May, June and July 1944 Individual Flight Records for Lt John A. Buskirk, a Project Squadron pilot, show his intensive A-26 training hours. Additional training documents are available on the Jack Buskirk Photo and Document Collection page.

On 1-May-1944, the 335th Bomb Group was redesignated as the 331st Army Air Force Base Unit Replacement Training Unit (Medium Bombardment) ("331st AAFBU RTU (MB)"). The Squadrons were also renamed as follows: Hqs, 335th Bombardment Group (M) was designated Section "N". The "Bomb Crew Section", responsible for the training of Combat Crews for overseas duty, was designated Section "S". The 474th, 475th, 476th and 477th Squadrons were renamed Sections "O", "P", "T" and "U" respectively. All "Section" designations were later renamed to "Squadron" on 15-Jun-1944. On 11-Jun-1944, Squadron "F" was also established to train Free French Air Forces crews in the B-26.



The Group and Squadron histories of the Barksdale Field RTU for the months of May, June and July 1944 identify a number of personnel involved in the state-side A-26 training, including:

The June 1944 Squadron "O" history notes "Squadron "S" were still in need of flying personnel and the following named officers were transferred. Captain J. K. Coleman, 1st Lt. F. S. Brewster, 1st Lt. R. C. Hanna, 1st Lt. J. E. Burk, 1st Lt. H. R. Nevitt, 2nd Lt. J. A. Buskirk, 2nd Lt. W. R. Heinke, and 2nd Lt. C. J. Brown." And the June 1944 Squadron "T" history shows "Several more men were transferred to Squadron "S", the Combat Crew Section of the Group, to go into the A-26 unit which if now training for overseas duty. To this unit we lost one of the original Squadron members. 2nd Lieut. Lewis W. Dennis, a bombardier instructor. This Officer was on the original activation orders. Another Officer, 2nd Lieut. John J. Chalmers, had been with the Squadron since December of 1942 and was also transferred to the A-26 Unit."

Barksdale Field RTU (MB)'s monthly historical summary for July 1944 notes "Eighteen (18) combat crews completed training in A-26 planes on this field, and were sent to a staging area. Colonel John R. Kelly [of Squadron "S"] was the Commanding Officer of this unit. Two other crew members were Major Howard Burhanna and Lt. Barton D. Stebbins, both of whom were formerly with Squadron "P". Major Burhanna served in the Carribean area."

Additional personnel known to be involved in A-26 training included: 1st Lt. W. W. Mills, S/Sgt Neppes, Lt Phillip L. Russell, S/Sgt Walter Mifflin, Sgt Cecil L. Roberts, S/Sgts Herbert Sunderland, Charles Houston Corbitt, Jr., Mike Williams.




Left: Lt. Claude Brown (on right) and S/Sgt Herbert Sunderland (on left) during A-26 training at Barksdale Field, LA

Right: "Group photo of the First A-26 Combat Crews, (G1685-331 A.A.F.) (6 July 44) Barksdale Field, LA."
Back Row: Lts Claude Brown (7th from left) and John Buskirk (8th from left)
Front Row: S/Sgts Herbert Sunderland (2nd from left), Mike Williams (6th from left), Charles Corbitt, Jr. (8th from left)
A B-26 Marauder was used for these photographs because the A-26 Invader was still considered Classified.

(Left: Herb Sunderland Photo and Document Collection
Right: ww2buddies.com Pilot - Lt Claude J 'Brownie' Brown)



Sadly, A-26 training, as with any other aircraft, often involved accidents; three were documented during the A-26 training at Barksdale Field RTU.

As noted in the Squadron "P" June, 1944 monthly history, "On the twenty eighth of June 1st Lt. W. W. Mills in an A-26 type airplane was forced to perform a 'Belly Landing' due to a malfunction of the landing gear locking mechanism. Considerable damage was done to the ship but neither he nor S/Sgt Neppes, engineer on the plane, were injured."
AAR 44-6-27-63 shows the accident actually occured on 27 June 1944 and the aircraft was A-26B 41-39121. The crew included 1st Lt William W. Mills (Pilot, ASN O-793815) and Gunner S/Sgt Charles E. Neppes (33153844). Both crew members continued as members of the A-26 ETO Combat Evaluation Project Squadron, flying some of the Combat Evaluation Missions from Great Dunmow, England in September 1944. This Accident Report noted that this was the second failure of this type.

Pilot 2nd Lt Phillip L. Russell (ASN O-683591) and Gunner S/Sgt Walace (NMI) Mifflin (39184309) of Squadron "S" were both killed July 11, 1944 in a training accident in A-26B Invader 43-22253. They were on a Long range training flight from Barksdale Field, Louisiana to Bradley Field, Connecticut to Portland, Maine. When they arrived at the Portland Municipal Airport, a fog bank had covered the south edge of the airport. While attempting to circle, Russell made a steep right turn, flying into the fog bank, where his right wing struck the ground cartwheeling the airplane into a group of buildings. Sadly, not only was the flight crew killed, but also a number of civilians in these buildings where killed and injured. See Aircraft Accident Report AAR 45-7-11-25 for additional information.

Also, the July 1944 monthly history of Squadron "T" describes the following non-flying accident: "The second accident, which happened the next day, 18 July 1944, as a non-flying accident. Sgt. Cecil L. Roberts, an armament man of the Squadron, was assisting in trouble shooting a defective bomb release light circuit on an A-26 aircraft. The main landing gear collapsed, and in an attempt to get clear, Sgt Roberts was pinned beneath the right bomb bay door. The gear was found to be faulty, as down locks were not installed. The locks had been lost and were on order. They would normally have been on, preventing the accident. Sgt. Roberts was severely injured, but latest reports from the hospital state that his condition is greatly improved."
The A-26B-5-DT Invader was Serial Number 43-22254. In addition to the injured Sgt Roberts, Armorer Inspectors who were working on the aircraft included S/Sgt Ralph E. Burson (ASN 35043994), Sgt William L. Groover (35350430) and Sgt Frank L. Pondolfino (32369845), all were not injured. The aircraft was sent for repairs to the 8th Sub-Depot. (AAR 45-7-18-11)


---
Ferry A-26s to the ETO
As noted above in the Barksdale Field RTU July 1944 summary, "Eighteen (18) combat crews completed training in A-26 planes on this field, and were sent to a staging area." This staging area was at Hunter Field, Savannah, Georgia where crews and aircraft were stationed prior to their overseas ETO assignment.

First Lt John A. "Jack" Buskirk was one of the Project Squadron pilots and his Individual Flight Records (IFR) show he was transferred on 24 July 1944 [from Barksdale to Hunter] and he ferried an A-26B model Invader to the ETO between August 7 and 24, 1944. The ferry route was: Hunter Field, Savannah, GA -to- Dow Field, Bangor, ME -to- Goose Bay, Labrador, Canada -to- Bluie West-3, Greenland -to- Meeks Airfield, Reykjavik, Iceland -to- Nutts Corner, North Ireland -to- Great Dunmow, Essex, England.





July and August, 1944 Individual Flight Records - 1Lt John A. "Jack" Buskirk
(Jack Buskirk Photo and Document Collection)


On August 24, 1944, eight Douglas A-26 Invaders being ferried from the USA, were gathered at Nutts Corner, North Ireland waiting to fly to their new base: Serial Numbers 41-39187, 41-39189, 41-39193, 41-39196, 41-39197, 41-39200, 41-39201 and 41-39202. Aircraft 41-39193 and 41-39200 were bombardier (glass) nosed model A-26C's and the remaining 6 were gun (solid) nosed A-26B models.

They were joined by A-26B Invader 41-39143, which had been in England since 22-Jul-1944 and was sent to Nutts Corner to lead the flight to USAAF Station AAF-164, Great Dunmow, Essex, England, home base of the Martin B-26 Maurader 386th Bombardment Group (M).

The flight of nine A-26's successfully made the trip to Great Dunmow, but unfortunately encountered bad weather and slippery runway conditions upon landing. Three aircraft (41-39193, 41-39201 and 41-39143) were damaged. The following transcription from Aircraft Accident Report (AAR) AAR 45-8-24-540 describes the landing:

------------------------------------------------------------------
STATEMENT OF WALTER H. HILBRUNER, CAPT. AC, FLYING CONTROL OFFICER
ON DUTY AUGUST 24, 1944, WHEN AIRCRAFT MISHAP OCCURRED AT STA. 164:


ON THE AFTERNOON OF AUGUST 24, 1944, WE WERE EXPECTING A FLIGHT OF 
NINE A-26S, LED BY LT. COL. HARRIS, FROM NUTTS CORNER.  SINCE THE 
WEATHER HAD BEEN NOT TOO GOOD, DUE TO INTERMITTENT SHOWERS, WE 
TELEPHONED NUTTS CORNER AT 1630, ON ORDERS OF COL. JOE W. KELLY, 
COMMANDING OFFICER, IN AN EFFORT TO HEAD OFF THE FLIGHT.  WE WERE 
TOLD BY NUTTS CORNER THAT THE FLIGHT HAD LEFT AT 1547 AND WAS DUE 
AT THIS STATION ABOUT 1730. 


THE WEATHER BEGAN TO CLEAR, BUT WE CALLED BOMBER COMMAND FLYING 
CONTROL AT 1700 TO OBTAIN A DIVERSION STATION IN CASE IT BECAME 
NECESSARY TO DIVERT.  WE WERE TOLD THERE WAS RAIN SHOWERS GENERALLY 
IN THIS VICINITY, BUT WERE GIVEN BASSINGBOURN AS THE DIVERSION 
STATION.  CAPTAIN ANDERSON, MET OFFICER, WAS PRESENT IN THE WATCH 
TOWER AND HAD BEEN CONSULTED ABOUT THE WEATHER.  HE SAID HE BELIEVED 
IT WOULD CLEAR SUFFICIENTLY TO LAND THE AIRCRAFT, WHICH IT DID. 
THE WIND HAD BEEN LIGHT AND VARIABLE THE ENTIRE DAY, AND AFTER A 
CONSULTATION WITH THE MET OFFICER IT WAS DEEMED THAT RUNWAY 15 
WOULD BE THE BEST ONE TO USE. 

AT 1708 COL. HARRIS CALLED ON THE R/T FOR A WEATHER REPORT AND WE 
TOLD HIM VISIBILITY WAS 1 1/2 MILES AND THE CEILING WAS 1500 FEET. 
AT ABOUT 1720 THE FLIGHT APPEARED OVER THE FIELD AND ENTERED A 
NORMAL TRAFFIC PATTERN FOR LANDING. 

COL. HARRIS, IN A/C NO. 143, TOUCHED DOWN FIRST, AT 1725, FOLLOWED 
CLOSELY BY NOS. 196 AND 201.  IN THIS INSTANT WE OBSERVED FROM THE 
WATCH TOWER THAT COL. HARRIS' A/C/ HAD RUN OFF THE END OF THE RUNWAY. 
THE SECOND AIRCRAFT LANDED SAFELY AND CAME TO A STOP AT THE END OF 
THE RUNWAY, CUT ITS ENGINES AND A MOMENT OF TWO LATER STARTED THEM 
AGAIN AND TAXIED OFF.  THE THIRD AIRCRAFT RAN OFF THE RIGHT SIDE OF 
THE RUNWAY AND CAME TO A SAFE STOP IN THE MUD. 

WHEN COL. HARRIS' TROUBLE WAS OBSERVED WE FIRED TWO RED FLARES FROM 
THE WATCH TOWER AND SEVERAL FROM THE CARAVAN AND PASSED A MESSAGE 
ON THE R/T FOR ALL AIRCRAFT TO PULL UP AND GO AROUND.  DESPITE THIS 
NOS. 193 AND 195 LANDED, AGAINST THE RED FLARES.  THE REMAINING FOUR 
AIRCRAFT CONTINUED TO CIRCLE.  NO. 193 ALSO RAN OFF THE RIGHT SIDE 
OF THE RUNWAY, STRUCK NO. 201 AND CONTINUED ON TO HIT COL. HARRIS' 
AIRCRAFT.  NO. 195 LANDED SAFELY. 

IT IS THE CONSIDERED OPINION OF THIS OFFICER THAT AIRCRAFT NO. 193, 
WHICH CAUSED THE DAMAGE, HAD RECEIVED AMPLE WARNING OF THE DANGER 
IN TIME TO HAVE PULLED UP AND GONE AROUND.  FLARES WERE FIRED BOTH 
FROM THE WATCH TOWER AND FROM THE CARAVAN. 

                                         [signed]
                                         WALTER H. HILBRUNER
                                         CAPT. AC.
------------------------------------------------------------------

Note that aircraft are identified by the last 3 digits of their Serial Numbers (S/N) (e.g. "143" is S/N 41-39143, "196" is S/N 41-39196, etc.). Also, the above references aircraft No. 195 (S/N 41-39195), however according to its Individual Aircraft Record Card (IARC), 41-39195 was an A-26C model and did not arrive in England until 13-Sep-1944. I believe the correct aircaft S/N is 41-39197 (A-26B), which arrived on 24-Aug-1944 per its IARC.

A description of this event by Lt Col. Harry G. "Tad" Hankey (386th BG Deputy Group Commander and Group Air Executive Officer as of July 1944 and 386th BG Aircraft Accident Review Board President (AAR 45-8-24-540)), originally published in "The Story of the Crusaders: the 386th Bomb Group (M) in World War II" and re-published or summarized in subsequent publications (e.g. Thompson, p76; Roeder, p14-15; Bowman, p116), differs from both the information contained in AAR 45-8-24-540 (documented immediately after the accident) and research by Roeder (p15-17).


AAR 45-8-24-540 does not list all personnel of the nine aircraft, but does identify the crews of the 3 damaged aircraft as:
41-39143 - Lt Col Franklin W. "Frank" Harris (Pilot, ASN O-348673) and 1st Lt William P. Anton (Navigator, O-796939)
41-39201 - 2nd Lt Mark L. Robb (Pilot, O-745182) and Sgt Millard A. Presson (Gunner, 34507829)
41-39193 - Maj Collins H. Ferris (Pilot, O-411820), 1st Lt Robert C. Hanna (Navigator, O-732466) and S/Sgt Dominic J. Rio (Gunner, 13007285).

Based on additional sources, the following men were also in this flight from the USA, but on which aircraft is unknown:
1st Lt Francis S. Brewster (Pilot), Capt Claude J. Brown (Pilot) with S/Sgt Herbert E. Sunderland (Gunner) and 1st Lt John A. Buskirk (Pilot).




A-26C-2-DL S/N 41-39193
Rear caption: "This Douglas A-26 was badly damaged when it made a crash Landing at the 386Th Bomb Group base in
Great Dunmow, Essex, England on 26 August 1944." [actually, 24 August]
(NARA ID: 342-FH-3A15463-70021AC)


---
386th BG, 553rd BS Combat Evaluation
The August 1944 386th Bomb Group (M), 553rd Bomb Squadron monthly history includes the note: "Twelve A-26 airplanes arrived during August and were assigned to this organization. Also assigned to this Squadron were one line chief and seventeen crew chiefs for the A-26's. In addition, twenty officers and fifteen gunners - crews of the A-26 planes - were attached to this organization." and the September 1944 squadron history further shows "Three A-26 crews were assigned on 12 September 1944. The pilots were Lts Sutton, Heinke and Turner."

Aside from these three pilots, specific Project Squadron aircraft serial numbers and names of the soldiers are not documented in the 386th Bomb Group or 553rd Bomb Squadron histories.
The individual Combat Evaluation Mission documents do provide the names of the crewmembers who participated in each Mission, along with the Aircraft Numbers.





Upon arrival at Great Dunmow, the A-26 aircraft were painted with 386th Bomb Group (M) tail markings
and assigned 553rd Bomb Squadron Fuselage Codes (AN) and Call Letters.
As shown in this photo of 5 planes, aircraft S/N 41-39187 (left of center) does not yet have a Fuselage Code.
41-39200 (center of photo) was assigned as AN-L.
Aircraft 41-39202 (far right) was AN-K and already had the horizontal yellow 386th BG band on the tail.
(Rust, p114)



At 1500 hours on August 30, 1944, Capt Thomas L. Adams (Pilot, ASN O-670482), with crew members T/Sgt F. McDaniels (Crew Chief, 6988826) and S/Sgt Harry J. Jacobs (Gunner, 6953109), was attempting to take off on a "Local test hop" in A-26B Invader 41-39145, but before the aircraft was airborne, the nose wheel started to shimmy. Adams cut the throttles, but the nose strut bent back and partially collapsed, causing damage to both propellers when they hit the ground. The cause was found to be due to the fact that the nose strut shimmy dampener lock pin was not completely seated. None of the crew were injured. See AAR 45-8-30-522 for more information.



24 Douglas A-26 Invaders have been identified as being associated with the ETO Combat Evaluation Project and/or A-20 to A-26 Conversion Training. 4 were A-26C (bombardier/glass nosed) models (41-39193, 41-39195, 41-39199 and 41-39200), the remaining 20 were A-26B (gun/solid nosed) models.


See A-26 Training and ETO Combat Evaluation Aircraft
---
Combat Evaluation Missions
Eight Combat Evaluation Missions were flown in September 1944 using the Douglas A-26 Invaders by the Project Squadron crews attached to the 553rd Bomb Squadron.
The brief mission summaries below are extracted from the September 1944 553rd Bomb Squadron history. Additional information is available on the individual mission web pages.


Evaluation Mission # 1 (386th BG #269) -- 6 September 1944 -- Brest, France
Having completed their oversees training, the new A-26 planes went out on their first operational mission against the enemy this date. Thirteen air- craft were dispatched and thirteen aircraft attacked enemy strong-points at Brest. There was no enemy opposition. 1000 lb. bombs were dropped with fair to good results.


On 8 September 1944, Field Order Number 261 detailed the attack of 13 A-26's against target ZH-52 in Holland. However, this mission was never planned or executed.


Evaluation Mission # 2 (386th BG #272) -- 10 September 1944 -- Custine, France
A-26 aircraft continue their operations against the enemy by dropping 1000 lb. bombs on the bridge at Nancy [Custine]. Results were fair to excellent. Major Burhanna led this A-26 mission.


Evaluation Mission # 3 (386th BG #274) -- 11 September 1944 -- Metz, France
With Major Ferris leading, the A-26 aircraft attacked Metz, dropping 1000 lb. bombs with good results. This was the third operational mission for the A-26's.


Evaluation Mission # 4 (386th BG #276) -- 11 September 1944 -- Leeuwarden, Holland
Again this afternoon, the A-26's were out, bombing Leeuwarden. Good to excellent results were obtained. Major Burhanna led this formation of 12 aircraft which dropped 250 lb. bombs.


Evaluation Mission # 5 (386th BG #277) -- 12 September 1944 -- Scheld, Germany
Fortifications at Scheld were bombed by our A-26 aircraft. 1000 lb. bombs were dropped with good to excellent results.


Two of the aircraft during the September 12th Mission collided as they were starting to taxi from their hardstands to form up in line for take off. 1st Lt Lee J. Sutton, Jr., with Bombardier 1st Lt Adolphus S. Callaway and Gunnner S/Sgt Delbert C. Gilliam, assigned to fly the #2 position on this mission in A/C 41-39190, was entering the perimeter track behind the lead aircraft. To Sutton's left, 2nd Lt Dan O. Turner, Jr with Gunner S/Sgt Manuel R. Reyes in A/C 41-39185 also started out from his hardstand onto the perimeter track. Turner's windshield had moisture on it which Turner was unable to clean off, and Turner was taxiing into the sun, the combination of which made visibility poor causing Turner to not see Sutton's aircraft and collide with it.
Turner did not take off for this mission and Sutton had to abort after take off.
See AAR 45-9-12-529.


Evaluation Mission # 6 (386th BG #279) -- 14 September 1944 -- Brest, France
Stront points at Brest were bombed by our A-26 aircraft today. 1000 lb. bombs were dropped with good to excellent results on these enemy positions. Major Burhanna led this formation of 11 aircraft.


Evaluation Mission # 7 (386th BG #280) -- 16 September 1944 -- Bergen-op-Zoom, Holland
Excellet results were obtained by our A-26 aircraft as they dropped 1000 lb. bombs on the Bergen-op-Zoom Dike. This mission was led by Major Ferris.


Evaluation Mission # 8 (386th BG #282) -- 19 September 1944 -- Duren, Germany
Our A-26 aircraft attacked this same target today, the Duren marshalling yards. They dropped 500 lb. bombs with good to excellent results.




September, 1944 Individual Flight Records - 1Lt John A. "Jack" Buskirk (left) and S/Sgt. Herb E. Sunderland (right)
(Jack Buskirk and Herb Sunderland Photo and Document Collections)



---
416th BG A-26 Conversion Training
On September 30, 1944, Sixteen of the Project Squadron Invaders transferred to Station A-55 Melun/Villaroche, France to begin training the 416th Bomb Group. 5 additional aircraft arrived over the next few days, with the first A-26 Mobile Training Unit arriving October 6th.

The original plan was for one six-crew flight and one-fourth of the engineering personnel from each Squadron to be taken off operations and trained on the Invader. Due to multiple difficulties, the decision was made that, when this first cadre of trainees had completed training, one entire Squadron would be taken off operations for training. The 670th Bomb Squadron was the first, starting October 13th and completing on the 18th. The 671st Squadron was next from 18 to 29 October. This Squadron's training was held up by bad weather that limited flying between 20-25 October. On October 30th, the 669th BS began their A-26 training, completely converting in 5 days. The 668th likely trained during this same period because the A-26 conversion training was considered complete for the entire 416th Bomb Group on November 5th, 1944.

The 5th of November also marked another milestone in the 416th BG history. On this day all but a few glass-nosed A-20 Havocs were flown back to England and two days later (due to weather delays in England), the first A-26 Invaders assigned to the 416th landed at A-55. These were immediately given Acceptance checks and were operationally ready by November 9th.

On 11 November 1944 the Project Squadron A-26's, some of the Project Squadron Transition Crews and the Mobile Training Units left Melun to begin the conversion training for the 409th Bomb Group.

Due to the bad weather, no Combat Missions were flown by the 416th Bomb Group between October 18 and November 16, 1944. Mission # 159 against a Supply Depot at Hageunau, France on November 17, 1944, was the first Combat Mission flown by the 416th using 28 A-26 Invaders.

Some of the Project Squadron Transition Crew Members did not move to the 409th and were flying Combat Missions with the 416th BG starting with Missions # 159 and 160 (17 and 18 November, 1944). Some others likely did transfer to the 409th and possibly other groups, but later returned to the 416th BG and began flying on 416th Combat Missions 164 (Dec 2, 1944) and 196 or 197 (Feb 1 and 2, 1945).


See the "Conversion from A-20 to A-26 type aircraft" for more details on the 416th Bomb Group Conversion,
including the conversion memo from Col Aylesworth and Group and Squadron History extracts.



The following Accidents and Incidents occurred during the 416th BG A-26 Conversion Training


Date
Report



A/C
Serial #
Type
Mis-
sion
#
Bomb
Sq
Location
Personnel (Status when available)
Oct 15, 1944
Sunday
AAR
45-10-15-536



41-39183
A-26B
670
2 Miles North of Deulair, France
Sheley, Stanley Horace (Not injured)
Paladino, Domenic V. (Not injured)
Tharp, Freeland M. (Not injured)
Oct 15, 1944
Sunday
AAR
45-10-15-533



41-39196
A-26B
670
8 1/2 miles SW of Sezanne, France
Leishman, Samuel Payne (Fatal)
Siracusa, Joseph F. (Fatal)
Shempren, Eugene H. (Fatal)
Oct 16, 1944
Monday
AAR
45-10-16-517
41-3380
A-20B
670
RAF Airfield, Southend, England
Jackson, Chester Ronald (Not injured)
Maltby, Alfred H. (Not injured)
Burns, Donald E. (Not injured)
Wark, LaMoine NMI (Not injured)
Oct 18, 1944
Wednesday
AAR
45-10-28-530



41-39207
A-26B
669
AAF Station A-55
Stebbins, Barton D. (Not injured)
Winn, Alonzo J. P. (Not injured)
Davis, Warren G. Jr. (Not injured)
Oct 19, 1944
Thursday
AAR
45-10-19-528



41-39145
A-26B
668
AAF Station A-55
Ames, William H. (Not injured)
Fessler, Herman S. (Not injured)
Brown, Robert J. (Not injured)
Oct 22, 1944
Sunday
No_Report
Unknown
A-26
671
R.A.F. field East of London
Henderson, Floyd W. (Not Injured)
To view more information regarding an Incident/Report, click on the Report hyperlink.
(
= Entries having actual Reports available for review.
= Entries having additional Images or Photos.)
To view an individual's Memorial page, click on the "Name" hyperlink.
---
See Also:
A-26 ETO Combat Evaluation Sources and References
A-26 ETO Combat Evaluation Personnel
A-26 ETO Combat Evaluation Aircraft
A-26 ETO Combat Evaluation Evaluation Mission pages:
Evaluation Mission # 1 (386th BG #269) -- 6 September 1944 -- Brest, France
Evaluation Mission # 2 (386th BG #272) -- 10 September 1944 -- Custine, France
Evaluation Mission # 3 (386th BG #274) -- 11 September 1944 -- Metz, France
Evaluation Mission # 4 (386th BG #276) -- 11 September 1944 -- Leeuwarden, Holland
Evaluation Mission # 5 (386th BG #277) -- 12 September 1944 -- Scheld, Germany
Evaluation Mission # 6 (386th BG #279) -- 14 September 1944 -- Brest, France
Evaluation Mission # 7 (386th BG #280) -- 16 September 1944 -- Bergen-op-Zoom, Holland
Evaluation Mission # 8 (386th BG #282) -- 19 September 1944 -- Duren, Germany