416th Bombardment Group (L)
Honor Flight
Roland E. Dullnig
May 19-20, 2017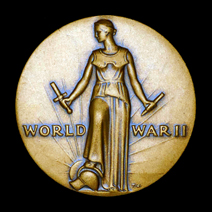 Return to Table of Contents
---
Roland Dullnig and his daughter Carolyn Haisler were among the guests of honor on the
Honor Flight San Antonio (Flight 006), Jay Jones Memorial Flight on May 19-20, 2017.

There were 19 WWII Veterans on this two day Washington, D.C. area trip, which included
visits to the Arlington National Cemetery, Iwo Jima Memorial and National WWII Memorial.

Private Roland Dullnig enlisted June 1, 1942 at San Antonio, Texas, and served a Crew Chief
in the 668th Bomb Squadron, 416th Bomb Group, 9th Air Force. He joined the 416th Bomb Group
while they were still based in the U.S.A, attaining the rank of T/Sgt. Roland transferred with
the Group overseas at the beginning of 1944, was stationed originally at Wethersfield, England,
later moving to Melun, France and then Laon, France, serving until the end of WWII.


See also:

Roland Dullnig, Veteran Photo and Document Collection

Honor Flight Network

Honor Flight San Antonio

Local veterans take honor flight to Washington, D.C. memorials, News article and Video.