416th Bombardment Group (L)
Logistics
Production
Service & Maintenance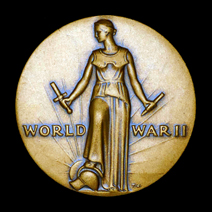 Return to Table of Contents
---


---
---
PRODUCTION
Douglas Aircraft Plant - A-26 production line (NARA photo)
Tail Numbers such as 434451 directly relate to USAAF Serial Numbers (44-34451 for this example).
Per "Douglas A-26 and B-26 Invader" by Scott Thompson, Serial Numbers 44-34424 to 44-34472
(likely all the planes in this photo) were A-26B-55-DL Model aircraft, manufactured at the
Douglas Long Beach plant and delivered to the Air Force in June, 1945.


Riveter on an A-20 at the Douglas Aircraft Plant in California (NARA Photo)

---
SERVICE & MAINTENANCE
1781st Ordnance S&M (Aviation)
There were several support Companies of specialist units on our fields.
Collectively, they were referred to as the Sub-Depot.

When an aircraft was ready to have something done to it that the
aircraft's Crew Chief's crew did not do; he or the Line Chief would
contact the Sub-depot to get the required specialist crew to come
to the aircraft to do the job.

When battle damage was excessive, the aircraft was towed to the Sub-depot
area of the field where it was worked on until it was ready to fly again.

One Company was a Chemical Bomb Company. At Viillaroche AF in
France, they kept their stockpile of Chemical Bombs in the 668 BS area.
The commander was Captain Sheehan, a New York State man who we
got to know well.
(Back in WW ONE the Germans used chemical gas on American troops
and caused a lot of serious casualties. If the Germans were to use Chemicals
in WW TWO, Captain Sheehan's Company was ready to load our airplanes up with their
Chemical Bombs and we would retaliate. Fortunately for the Germans we
never had to get the order to drop the Chemical Bombs.)
(Submitted by Wayne Downing)

50 caliber machine gun belts being assembled in England (NARA photo)

Bomb Handling - Wethersfield (F.J. Cachat photo)


Bomb Loading an A-20 Havoc (NARA photo)
"With This Bomb Loading Device, Bombs Are Quickly Loaded On Wing Racks
Of 9Th Air Force Bomber Command A-20 Havocs, Based In England, And
Operating On The Western Front. Use Of Wing Racks, Increases The Havoc
Bomb Load By 50 Per Cent."
(NARA ID: 342-FH-3A06486-3A06486)
Video interview with Roy Burns on Bomb Loading
Taped during the September, 2010 416th BG Reunion at Branson, MO by Wayne Sayles.