416th Bombardment Group (L)
Mission # 175 -- December 24, 1944, Sunday PM
Zulpich, Germany
Communications Center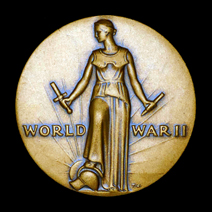 Previous Mission # 174
Mission List
Next Mission # 176
Return to Table of Contents
---
Summary of Operations
Field Order : 102-681
OpRep # : 265
Nature of Mission : Bombing
Mission Status : Attacked
Bombing Altitude : 11,000 - 12,200 feet
Take-off Time : 1352
Time Over Target : 1538 - 1552
Landing Time : 1729
Duration (Hrs:Min) : 3:37


Place of Take-Off : A-55 Melun/Villaroche, France
A/C Dispatched : 43 Total -- 8 A-20's, 35 A-26's
Modified British System Reference: F-237327
Secondary Target : Suitable Alternate Authorized
Summary of Results : Flight results - one Unsatisfactory, one Undertermined, two Superor, two Excellet, one No Attack - Mechanical failure of bomb release system on flight leader ship.

Primary Target Latitude/Longitude: 50.68886,6.65680 (50° 41' 20" N, 6° 39' 24" E)
(Latitude/Longitude based on The "Coordinates Translator", (NGZ) wF237327)
(See Latitude/Longitude Coordinates and Target Identifiers for more information.)

Scanned original Mission 175 documents (multipage PDF files)
Mission Folder
Reports Folder
OpRep # 265
Fuel Use
If nothing happens on Click, check to see if the PDF file was automatically saved to your computer. Depending on Internet speed, the display or download may be slow.
These Public Domain, Declassified Mission documents were graciously provided to the 416th BG Archive by the dedicated staff of the
Air Force Historical Research Agency
(AFHRA).
An on-line index of records held by AFHRA up to 2001 is available at
Air Force History Index.org
.
Most of these PDF files are unaltered originals provided by the AFHRA, a few have been re-organized.
Pages may be out of sequence; files may contain scanned blank pages and/or pages scanned upside-down; some pages may be included in more than one file.
The "Mission Folder" usually contains the majority of documents for a Mission, including Field Orders, Status Reports, Pilot Interrogations, Photos (if available), etc.
---
Loading List 1, Box I
Loading List 2, Box II
(Note: Extra Flight Added on This Mission)
---
Missing Air Crew Reports, Aircraft Accident Reports, and other incidents


Date
Report



A/C
Serial #
Type
Mis-
sion
#
Bomb
Sq
Location
Personnel (Status when available)
Dec 24, 1944
Sunday
MACR
11922



41-39242
A-26B
175
669
8 To 10 Miles West Of Zulpich
Robertson, Reece B. (MIA, POW, RMC, RTD)
Cheney, Marine W. (MIA, POW, DED)
To view more information regarding an Incident/Report, click on the Report hyperlink.
(
= Entries having actual Reports available for review.
= Entries having additional Images or Photos.)
To view an individual's Memorial page, click on the "Name" hyperlink.
---
Mission Loading Lists Transcription
Mission # 175 -- December 24, 1944, Sunday PM
Zulpich, Germany -- Communications Center
Included are Box, Flight and Position; Bomb Squadron; Aircraft Serial Number, Fuselage Code and Model; and Crew Members
transcribed from individual mission Loading List documents by Chris and Mary Adams and Carl Sgamboti.
Some information, such as Squadron, Serial Number, etc. has been expanded from other documents.
Box I -- Flight I
1 670th
44-614 F6-A A-20K
Maj Dunn, L.F.
Lt Maltby, A.H.
S/Sgt Majewski, S.J.
S/Sgt Teran, A.
2 670th
41-39227 F6-F A-26B
Lt Musgrove, W.
S/Sgt Licker, M.


3 670th
43-22315 F6-L A-26B
Capt Gruetzemacher, R.O.
Cpl Kubjalko, A.
F/O Green, J.A.

4 670th
43-22296 F6-D A-26B
Lt Grunig, D.B.
Sgt Nowosielski, H.J.


5 670th
41-39212 F6-K A-26B
Lt Bishop, E.G.
Sgt Harris, M.C.


6 670th
41-39217 F6-I A-26B
Lt Errotabere, M.
Cpl Lynch, P.R.


Box I -- Flight II
1 668th
44-108 5H-M A-20K
Lt Andersen, C.J.
Lt Babbage, W.
S/Sgt Euga, P.G.
S/Sgt Schafer, E.L.
2 668th
43-22317 5H-O A-26B
Lt Svenson, R.R.
S/Sgt Fild, P.G.


3 668th
43-22290 5H-L A-26B
Lt Hale, W.L.
S/Sgt Geyer, J.F.


4 668th
41-39213 5H-A A-26B
Lt Kreh, E.B.
S/Sgt Clark, C.J.


5 668th
41-39219 5H-E A-26B
Lt Harris, F.W.
Sgt Williford, C.W.


6 668th
41-39214 5H-B A-26B
Lt Carver, J.H.
Sgt Stewart, A.B.


Box I -- Flight III
1 668th
44-081 5H-P A-20K
Lt Evans, H.M.
Lt McCartney, T.M.
Sgt Merritt, O.N.
Pfc Stindt, G.S.
[Stindt (4th CCU)]
2 668th
43-22302 5H-D A-26B
Lt Roberts, W.H.
Sgt Hood, A.R.


3 668th
41-39218 5H-C A-26B
Lt Buchanan, R.C.
Sgt Calabrese, C.L.


4 668th
41-39264 5H-I A-26B
Lt Parker, P.E.
Sgt Kochan, S.


5 671st
41-39210 5C-J A-26B
Lt Annin, W.W.
Cpl Edenburn, J.C.


6 671st
41-39249 5C-F A-26B
Lt Russell, R.A.
S/Sgt Bentzler, D.H.


Box I
SPARE 671st
41-39250 5C-A A-26B
Lt Cannon, L.E.
Sgt Robinson, J.W.


Box II -- Flight I
1 670th
44-173 F6-W A-20K
Lt Monroe, H.A.
Lt Kirk, R.L.
S/Sgt Kidd, W.L.
Cpl Carney, H.O.
2 670th
44-076 F6-Q A-20K
Capt Jackson, C.R.
Lt McNutt, M.C.
Cpl Willever, E.J.
S/Sgt Burns, D.E.
3 670th
41-39235 F6-M A-26B
Lt Murphy, T.A.
S/Sgt Ricketson, J.J.


4 670th
43-22307 F6-N A-26B
Lt Johnson, E.L.
T/Sgt Goggin, J.F.
Lt Turman, A.R.

5 670th
41-39223 F6-B A-26B
Lt Brown, N.G.
S/Sgt Ottaviano, J.O.


6 670th
43-22334 F6-G A-26B
Lt Popeney, H.
S/Sgt Candler, H.C.S.


Box II -- Flight II
1 669th
44-085 2A-T A-20K
Lt Miller, E.L.
Lt Conner, J.K.
S/Sgt Malloy, J.F.
Pfc Rapacz, H.S.
[Rapacz (4th CCU)]
2 669th
43-22344 2A-C A-26B
Lt Greene, W.J.
S/Sgt Stephens, D.W.


3 669th
43-22300 2A-P A-26B
Lt Kehoe, J.W.
Cpl Graham, R.F.


4 669th
41-39232 2A-A A-26B
Capt Peck, W.A.
Lt Britt, J.W.
S/Sgt Sharp, R.P.

5 669th
41-39241 2A-F A-26B
Lt Hackley, R.H.
S/Sgt Holloway, R.G.


6 669th
41-39229 2A-B A-26B
Lt Smith, D.E.
Cpl DeStefano, R.


Box II -- Flight III
1 669th
44-075 2A-J A-20K
Lt Cornell, R.H.
Lt Enman, R.E.
S/Sgt Carter, A.
Sgt Reid, K.A.
2 669th
41-39242 2A-Q A-26B
Lt Robertson, R.B.
S/Sgt Cheney, M.W.


3 669th
41-39238 2A-M A-26B
Lt DuBose, M.W.
S/Sgt Walters, J.H.


4 669th
41-39252 2A-D A-26B
Lt Sorrels, D.W.
S/Sgt Triber, H.I.


5 669th
41-39244 2A-I A-26B
Lt Willard, J.A.
Cpl Hinker, C.V.
[Not Airborne Induction Vibration]


6 669th
41-39271 2A-R A-26B
Lt Clark, H.B.
S/Sgt Sabadosh, J.W.


Box II
SPARE 670th
41-39224 F6-E A-26B
Lt Turner, E.O.
Sgt Belcas, J.O.


Box II -- Flight EXTRA
1 671st
44-089 5C-R A-20K
Capt Marzolf, L.A.
Lt Beck, J.T.
S/Sgt Marion, H.A.
S/Sgt Jones, R.J.
2 671st
41-39284 5C-C A-26B
Lt VanNoorden, H.M.
S/Sgt Steffey, R.I.


3 671st
41-39211 5C-K A-26B
Lt Fero, D.A.
S/Sgt Skelton, T.W.


4 671st
41-39209 5C-M A-26B
Lt Zubon, M.
S/Sgt DiMartino, A.E.


5 671st
41-39237 5C-D A-26B
Capt Sears, A.C.
Pvt Rose, J.W.


6 671st
41-39265 5C-V A-26B
Lt Winn, A.J.P.
Sgt Davis, W.G.


---
Group and Unit Histories
Mission # 175 -- December 24, 1944, Sunday PM
Zulpich, Germany -- Communications Center
"416th Bombardment Group (L) - Group History 1944"
Transcribed from USAF Archives

The next afternoon, a communications center at Zulpich was attacked, again in direct support of our defensive stand. This time 379 x 250 pound bombs were dropped with excellent results. Moderate, accurate flak at the target knocked down one plane and caused category "A" damage to 7 plane and category "AC" damage to four planes. Lt Reece B. Robertson's plane was hit in the right engine on the bomb run. He stayed with the formation and dropped his bombs even though his right engine was on fire. He peeled off from the formation after the target and started downward in a glide. One chute came out of the plane, which later crashed in a small town just on the German side of the bombline. Lt Robertson's gunner was Staff Sergeant Marine W. Cheney. Both are listed as MIA. The crews reported seeing Me 109s, FW 190s, and jet fighters in the distance, but they reported no attacks on the formation.
"Attack Bombers, We Need You! A History of the 416th Bomb Group"
Ralph Conte
Page 181
Mission #175 - 24 December - Zulpich, Germany. Christmas Eve, but the mission has to be run. Forty-three aircraft took off early afternoon to hit this important military target. Flights were led by Lts. Anderson and Babbage, BN, - Captain Marzolf and Lt. Beck, BN, and Lt. Evans with McCartney, BN. Heavy flak was thrown up at the target site. One A-26, piloted by Lt. Reece B. Robertson with Staff Sgt. M. W. Cheney, took a direct hit on the bomb run, but he continued on and dropped their bombs, after which it went down. Bombing scores were rated three excellents, two superior, one no attack and one unsatisfactory. Captain Marzolf was on his last (65th) mission. Christmas Eve back at the base meant guard duty for many, but the usual Midnight Mass was held with many Catholics as well as Non-Catholics attending.
"669th Bombardment Squadron (L) History"
Transcription from USAF Archives

On the 24th, a communications center at Zulpich was attacked. Lieutenant Cornell, Lieutenant Enman, B-N, leading a flight scored a "Superior", doing a fine job of bombing. Lieutenant Miller, Lieutenant Jack Conner, B-N, also lead a flight, but, due to their violent evasive action, there were no photographs of their bombing. Crew members rated their work as excellent. One plane, flown by Lieutenant Reece B. Robertson with Sergeant Cheney as gunner, was hit while on the bomb run. Despite the serious injury to his plane, Lieutenant Robertson continued on over the target with his flight. On the turn-off, his plane began to burn. The plane broke awar from the formation in a glide and was seen to crash just over the bomb-line. Crews reported one chute emerging from the plane. Both Lieutenant Robertson and Sergeant Cheney are listed as MIA.
"670th Bombardment Squadron (L) History"
Transcription from USAF Archives

The following day, December 24th, the communications center of Zulpich was attacked. Twelve of our crews took part in the attack, which scored excellent results.
"671st Bomb Squadron (L) Unit History"
Gordon Russell and Jim Kerns

December 24th, 1944

Captain Lavern Marzolf and his bombardier, Lt. Beck, gave the 416th Bomb Group their last excellent as a team on the afternoon of December 24th, 1944 when the Invaders struck at the Communication center at Zulpich. It was only right that Lt. Beck should make his going away present to his boss-man one that would go down in the books. And it did go down on the books for "Gus", flying his 65th mission with the 671st, scored a superior rating on his bomb pattern, which blanketed the DMPI. All bombs were within 1000 feet and the center of the bursts was on the main point of impact. Several hits were made on the railroad tracks. So ends the partnership of Marzolf and Beck who have led flights and boxes over the target many times for the 416th Bomb Group and have chalked up a record comparable to any other pilot/bombardier teams in the outfit. Lt. Beck hit the fifty mark on this mission and is now being groomed to finish his tour with Captain Tutt.

S/Sgt.Herbert A. Marion flew with Captain Marzolf and completed his tour with Number 51. Marion had a tour in the South Pacific before he joined the 416th back in Lake Charles. S/Sgt. Marion was assigned to Lt. Pair when the outfit went on operational status and was with Pair when e crashed landed in March of 1944. Marion was back on flying status before his pilot. He racked up a number of missions with Major Dunn and a few other pilots, but joined Lt. Pair again when he returned to the Squadron in July.

Three other flights besides Captain Marzolf's received excellent and superior ratings on the target, which proved to be a rather hot one. One aircraft was knocked down and eleven were flak damaged, but all crews of the 46th returned.


---
---