416th Bombardment Group (L)
Mission # 83 -- June 22, 1944, Thursday PM
Cherbourg, France
Strong Point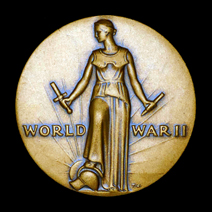 Previous Mission # 82
Mission List
Next Mission # 84
Return to Table of Contents
---
Summary of Operations
Field Order : 96-388
OpRep # : 83
Nature of Mission : Bombing
Mission Status : Attacked
Bombing Altitude : 11,500 -12,000 feet
Take-off Time : 1323
Time Over Target : 1449
Landing Time : 1640
Duration (Hrs:Min) : 3:17


Place of Take-Off : AAF-170 Wethersfield RAF Station, England
A/C Dispatched : 40 Total -- 34 A-20G's, 6 A-20J's
Modified British System Reference: O-148219
Illustration &nbsp : G.S.G.S. 4250
Illustration Ref : O-148219
Secondary Target : Bridges (T-223743, T-289714)
Summary of Results : Box 1 - Poor. Box 2 - Fair. Three ships dropped Window.

Primary Target Latitude/Longitude: 49.62970,-1.61254 (49° 37' 47" N, 1° 36' 45" W)
(Latitude/Longitude based on The "Coordinates Translator", (LZ1) vO148219)
(See Latitude/Longitude Coordinates and Target Identifiers for more information.)

Scanned original Mission 83 documents (multipage PDF files)
Mission Folder
Reports Folder
OpRep # 83
Fuel Use
If nothing happens on Click, check to see if the PDF file was automatically saved to your computer. Depending on Internet speed, the display or download may be slow.
These Public Domain, Declassified Mission documents were graciously provided to the 416th BG Archive by the dedicated staff of the
Air Force Historical Research Agency
(AFHRA).
An on-line index of records held by AFHRA up to 2001 is available at
Air Force History Index.org
.
Most of these PDF files are unaltered originals provided by the AFHRA, a few have been re-organized.
Pages may be out of sequence; files may contain scanned blank pages and/or pages scanned upside-down; some pages may be included in more than one file.
The "Mission Folder" usually contains the majority of documents for a Mission, including Field Orders, Status Reports, Pilot Interrogations, Photos (if available), etc.
---
Route Map
Loading List 1, Box I
Loading List 2, Box II
Loading List 3, Box III
(Window Mission)
A-20 Havocs over France
(Photo courtesy of Wayne Downing)
A-20 Havocs over France Photo overlaid on current Google Earth display
(Overlay by Wayne Sayles)
---
Missing Air Crew Reports, Aircraft Accident Reports, and other incidents


Date
Report



A/C
Serial #
Type
Mis-
sion
#
Bomb
Sq
Location
Personnel (Status when available)
Jun 22, 1944
Thursday
No_Report
43-10157
A-20G
83
670
Emergency Landing Strip #A6 on Allied Beachhead in France
Shea, Daniel Francis (WIA)
Lee, Robert E. Jr. (Not Injured)
Falk, Francis G. (Not Injured)
Jun 22, 1944
Thursday
No_Report
43-9181
A-20G
83
669
Warmell emergency airfield
Smith, Jack Fleming Jr. (Not Injured)
Vafiadis, Constantine (Not Injured)
Hoffman, Ralph C. (Not Injured)
To view more information regarding an Incident/Report, click on the Report hyperlink.
(
= Entries having actual Reports available for review.
= Entries having additional Images or Photos.)
To view an individual's Memorial page, click on the "Name" hyperlink.
---
Mission Loading Lists Transcription
Mission # 83 -- June 22, 1944, Thursday PM
Cherbourg, France -- Strong Point
Included are Box, Flight and Position; Bomb Squadron; Aircraft Serial Number, Fuselage Code and Model; and Crew Members
transcribed from individual mission Loading List documents by Chris and Mary Adams and Carl Sgamboti.
Some information, such as Squadron, Serial Number, etc. has been expanded from other documents.
Box I -- Flight I
1 670th
43-9455 F6-T A-20J
Capt Jackson, C.R.
Lt Maltby, A.H.
Sgt Burns, D.E.
S/Sgt Daniel, W.J.
2 670th
43-9452 F6-Q A-20J
Capt Hulse, D.A.
Lt Conte, R.
S/Sgt Allred, F.D.
S/Sgt Stephens, D.W.
3 670th
43-9224 F6-E A-20G
Lt Col Ford, T.R.
S/Sgt Stobert, R.F.
S/Sgt Glynn, F.P.

4 670th
43-9209 F6-K A-20G
Lt Harrold, F.J.
S/Sgt Griffin, E.L.
Sgt Dias, M.E.

5 670th
43-9689 F6-I A-20G
Lt Sommers, D.T.
Sgt Zaklikiewicz, S.R.
Sgt Johnson, J.L.

6 670th
43-9227 F6-F A-20G
Lt Nordstrom, A.W.
S/Sgt Miller, R.L.
Sgt Wiggins, H.G.

Box I -- Flight II
1 668th
43-9907 5H-O A-20G
Lt Ebenstein, G.
S/Sgt Perkins, H.
Sgt Newell, S.P.

2 668th
43-9894 5H-R A-20G
Lt Poindexter, R.D.
T/Sgt Robbins, L.G.
S/Sgt Simpson, D.H.

3 668th
43-10210 5H-Q A-20G
Lt Miracle, R.V.
S/Sgt Sieg, B.C.
S/Sgt Burkhalter, J.C.

4 668th
43-10176 5H-T A-20G
Lt Bartmus, G.F.
S/Sgt Orr, J.R.
S/Sgt Chustz, R.F.

5 668th
43-9745 5H-I A-20G
Lt Peede, L.G.
S/Sgt Hibbs, C.L.
S/Sgt Damico, E.A.

6 668th
43-10194 5H-A A-20G
Lt Downing, W.E.
S/Sgt Dickenson, E.S.
S/Sgt Hornbeck, K.E.

Box I -- Flight III
1 668th
43-9935 5H-F A-20G
Capt Prentiss, R.B.
S/Sgt McCreery, J.E.
S/Sgt Sylva, H.J.

2 668th
43-10226 5H-E A-20G
Lt Meredith, R.G.
S/Sgt Hill, A.A.
S/Sgt MacDonald, R.W.

3 668th
43-9975 5H-W A-20G
Lt Cruze, R.K.
S/Sgt Love, C.F.
S/Sgt Adair, F.L.

4 668th
43-9194 5H-C A-20G
Lt Ritchie, S.B.
S/Sgt Anderson, E.A.
S/Sgt Smith, H.W.

5 668th
43-21764 5H-X A-20G
Lt Hill, L.E.
S/Sgt Yost, C.H.
S/Sgt Burch, R.W.

6 668th
43-9195 5H-D A-20G
Lt Svenson, R.R.
S/Sgt Fild, P.G.
S/Sgt Pfenning, G.H.

Box I
SPARE 670th
43-10157 F6-P A-20G
Lt Shea, D.F.
S/Sgt Lee, R.E.
S/Sgt Falk, F.G.
[Landed on Emergency Landing Strip #A6 on Allied Beachhead in France]

Box II -- Flight I
1 669th
43-10135 2A-T A-20J
Capt Huff, M.J.
Lt Kupits, J.
S/Sgt Bergeron, A.E.
S/Sgt Ferguson, W.G.
2 671st
43-21724 5C-A A-20J
Lt DeMand, F.W.
Lt Hanlon, R.J.
S/Sgt Troyer, R.J.
S/Sgt Middleton, C.W.
3 669th
43-9717 2A-N A-20G
Lt Siggs, W.C.
S/Sgt Nicks, R.W.
S/Sgt Radlich, N.

4 669th
43-9202 2A-B A-20G
Lt MacManus, P.F.E.
S/Sgt Rogers, J.L., Jr.
S/Sgt Fleischman, G.I.

5 669th
43-9900 2A-Q A-20G
Lt Hayter, E.R.
S/Sgt Melchoir, F.E.
S/Sgt Holloway, R.G.

6 669th
43-9376 2A-O A-20G
Lt Tripp, W.F.
S/Sgt Rice, R.W.
S/Sgt Young, C.E.

Box II -- Flight II
1 671st
43-10214 5C-C A-20G
Lt Wheeler, R.V.
S/Sgt Brower, J.S.
S/Sgt Zeikus, A.J.

2 671st
43-9937 5C-B A-20G
Lt Andrews, H.D.
S/Sgt Cook, G.M.
S/Sgt Werley, E.R.

3 671st
43-9221 5C-F A-20G
Lt Merchant, W.A.
S/Sgt Harp, C.J.
S/Sgt Brown, K.P.

4 671st
43-9714 5C-N A-20G
Lt Hixon, S.M.
S/Sgt Lempka, H.A.
T/Sgt Larronde, F.H.

5 671st
43-9363 5C-L A-20G
Lt Estes, C.L.
S/Sgt Orvold, C.R.
Sgt DiMartino, A.E.

6 671st
43-10165 5C-H A-20G
Lt Herman, A.E.
S/Sgt Garrett, A.D.
S/Sgt Young, J.O.

Box II -- Flight III
1 669th
43-9450 2A-S A-20J
Lt Sommers, H.L.
Lt McQuade, R.J.
S/Sgt Rodgers, H.C.
S/Sgt VanDuyne, J.E.
2 669th
43-9390 2A-G A-20G
Lt Shainberg, N.V.
S/Sgt Alden, S.F.
S/Sgt Ballinger, R.L.

3 669th
43-10147 2A-K A-20G
Lt DeMun, E.E.
S/Sgt Rosenstein, M.
S/Sgt Carney, H.O.

4 669th
43-9840 2A-V A-20G
Lt Boukamp, T.
S/Sgt Colosimo, R.J.
S/Sgt Mallory, D.F.

5 669th
43-21712 2A-H A-20J
Lt Col Aylesworth, T.R.
Lt Lytle, W.M.
S/Sgt Sabadosh, J.W.
S/Sgt Floyd, C.F.
6 669th
43-9181 2A-A A-20G
Lt Smith, J.F.
S/Sgt Vafiadis, C.
S/Sgt Hoffman, R.C.
[Single Engine Landing at Warmell]

Box II
SPARE 670th
43-9217 F6-D A-20G
Lt Leonard, T.J.
S/Sgt Evans, O.D.
S/Sgt Palmer, T.A.
[No Sortie Returned Early as Briefed]

Box III -- Flight WINDOW
1 668th
43-21750 5H-S A-20J
Lt Shaefer, R.F.
Lt Burg, J.J.
S/Sgt Fejes, J.A.
S/Sgt Judd, E.R.
2 671st
43-9493 5C-V A-20G
Lt Smith, R.H.
S/Sgt Stockham, A.A.
S/Sgt Mahoney, R.J.

3 671st
43-9925 5C-G A-20G
Lt York, R.W.
S/Sgt Ashton, L.A.
S/Sgt Wilds, H.J.

---
Group and Unit Histories
Mission # 83 -- June 22, 1944, Thursday PM
Cherbourg, France -- Strong Point
"416th Bombardment Group (L) - Group History 1944"
Transcribed from USAF Archives

Cherbourg had to be taken. In a plan devised by Lt. General Omar Bradley, a coordinated air and ground attack was the surest way to take the port. The ground troops were to attack. Then, at a certain time, they would withdraw to allow the air power to operate. When the air attack was consumated, the ground forces would resume the attack. Forty of our planes participated in the attacks on one strong point. Anticipating a large scale assault, all of the northern tip of the Peninsula was covered with a thick blanket of smoke by the Germans. The results were fair., hitting in the target area and on nearby roads and a railroad west of the target. Lt. Daniel F. Shea's plane was hit by flak at the target. He was force to seek out an emergency landing strip and became the first member of our Group to land on French soil. Lt. Jack F. Smith's plane was also hit. He managed, however, to bring it across the Channel on a single engine and land at an emergency airfield in the United Kingdom. The two boxes were led by Captain Jackson, Lt. Maltby, B-N, and Capt. Huff, Lt. Kupits, B-N.
"Attack Bombers, We Need You! A History of the 416th Bomb Group"
Ralph Conte
Pages 100 - 101
Mission #83 - 22 June - Cherbourg Heavy Gun Emplacement. - This target had to be destroyed since it was in the way of advancing allied troops. The IX Bomber Command, with medium and light bombers attacking it, as well as fighter strafes. Since there were so many groups assigned to wipe out this annoyance, the timing of the separate bombing groups had to be precise. Window dropping ships helped disperse flak bursts, but two planes did incur hits requiring a forced landing on an allied held airstrip in France for one plane. The other flew single engine back to England, landing on another emergency strip. Lt. Shea with gunners S/Sgts. Lee and Falk was one of the two planes hit over the target. With one engine out and his hydraulic lines inoperative due to having been cut, required Shea to overrun the end of the runway, shearing off the nose wheel and the right wheel, and skidded another 75 yards. The gunners lay prone on the floor of their compartment, escaping injury. That emergency landing strip was in the right place, having just been completed three hours earlier than Shea's landing. One other plane had already used it, so it came in handy. The three occupants of Shea's plane had an opportunity to visit a bombed out chateau, which had been a German Headquarters. Many souvenirs were gathered before they were transported back to base on a C-47. Lts. DeMand and Hanlon, BN - Lts. Shaefer and Burg, BN led flights. The mission was led by Captain Jackson with Lt. Maltby, BN and Captain Hulse and Lt. Conte, BN as deputy. With 37 planes attacking, 11 were battle damaged.

Our base must have been a safe haven for other planes, since a B-24, Liberator, a British Halifax, and a B-26 made emergency landings here. It was interesting for our men to scrutinize these foreign ships.
"669th Bombardment Squadron (L) History"
Transcription from USAF Archives

When Cherbourg continued to resist, General Bradley called on the Ninth Air Force to crack it open. Captain Huff, with Lt Kupits, B-N, led the second box in the attack on the 22nd. The fall of Cherbourg shortly afterwards is proof enough of the effectiveness of the bombing.
"670th Bombardment Squadron (L) History"
Transcription from USAF Archives

June 22nd provided another exciting day in the history of this organization. On a mission in which we had seven crews, to knock out pill box installations on the hills surrounding Cherbourg, Lt Shea and his crew of S/Sgts Lee and Falk, ran into the most unusual experience to date. After releasing their bombs and turning off the target, Lt Shea's plane picked up a direct hit on the left engine. After feathering the propeller, Lt Shea tried to trim up the ship, but found the trim tabs control had been shot away. The airplane vibrated tremendously and began losing speed and altitude. Lt Shea picked out a landing strip, made a 360-degree turn, and made a good landing. On the first third of the runway he tried to apply the brakes, but found that the hydraulic lines had been shot away. He then tried the emergency air bottle, but that too had been destroyed. They came to the end of the runway, jumped a sunken roadway, sheared off the nose wheel, hit some anti-glider obstacles near the end of the field, sheared off the right main landing gear and under carriage of the ship, and came to a halt 75 yards away from a ditch at the end of the field. Both gunners had been lying on the floor bracing themselves. When the plane stopped they had to pry off the top hatch to get Lt Shea out. The Ninth Air Force Service Group removed all secret equipment not damaged in the crash. The landing strip had just been completed 3 hours before they landed there and they were the second ship to crash-land there. It was an advanced allied strip, approximately 6 miles north of St Mare D'Eglise. Near the airstrip was a chateau that had been a German headquarters, surrounded by 88mm gun emplacements. Bombardment had wiped it out completely. After a medical examination the men were taken on a tour of the area. They saw much abandoned nazi equipment and many dead German soldiers. After being assured that the area had been cleared of booby traps, the three men picked up shattered German helmets and German officer's collar insignia as souvenirs of their visit. After a four-hour stay at the base the three men were put on two different C-47's loaded with allied wounded soldiers being returned to England. After landing and having their identity verified, the three were returned to their own base, arriving about 2100.
"671st Bomb Squadron (L) Unit History"
Gordon Russell and Jim Kerns

Target: Cherbourg Results:Fair

(Ver-riding an all-day stand down,) the Ninth Bomber Command assigned the 416th Bomb Group to do a job on Cherbourg itself in an effort to break the city down for ground infiltration. Fighters, light and medium bombers plastered the defenses in a steady aerial stream and when the smoke had cleared it was found that the Ninth Air Force had done a pretty good job.

The group was to knock out some light gun emplacements that were harassing the allied ground forces. Because of the great number of planes attacking the city it was necessary for exact timing at all checkpoints. Landfall was made according to plan and the bomb run was started for the target. This Squadron held the high flight of the second box to bomb. As the formation approached the target area, bursts of flak were seen coming up between the boxes, but it was very inaccurate due to window, which was being thrown out by several of the A-20s. The bombs went away, but no one was sure that they hit their mark because of the dense smoke that was hanging over the city at the time. Just off the bomb run flak came up, and although inaccurate, it did hit two ships. One made a forced landing on an airstrip in Allied-held territory in France; and the other had to make a single engine flight over the channel, landing at an emergency field in England. The crew, which landed in France, returned to the base the same night in a C-47.


---
---