416th Bombardment Group (L)
1Lt. William Richard Jokinen
Pilot, O-795401
Prisoner Of War - Escaped
671st Bombardment Squadron (L)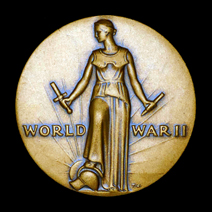 Return to Table of Contents
Return to POW/Evader Index
---
Born: 21-Oct-1919, Brooklyn, Kings County (Brooklyn), New York

Entered Military Service: Date: 23-Jan-1942 At: New York City, NY
NARA Enlistment Record: Enlisted Serial # 12053554

POW summary:
Fail to Return Date: 18-Mar-1945
Not assigned to any German POW Camp - Escaped while marching in POW column
Return Date: 6-Apr-1945

Died: 25-Jan-1978, Lakeland, Polk County, Florida

On-line Memorials:
National World War II Registry
Find-A-Grave

---
Extracts from Jokinen, William R. (1st LT.) Escape & Evasion Report EE-2943 (Original NARA Report)


MIS-X Report Number: EE-2943
Interviewed by I.S.9 (WEA): 10 April 1945
Missing in Action: 18 March 45
Rejoined Allied Forces: 6 April 45



Narrative

On 18 Mar 1945, Lt. JOKINEN was bombing WORMS, GERMANY. Heavy and accurate flak was encountered over the target. The oil lines to both motors on his ship, an A-26, were hit, disabling the ship. He was forced down near KRIEGSFELD, GERMANY (M-1523) and there he was taken POW.

While marching in a column of POW about 15 Km southeast of DORZBACH, GERMANY (S-4389) on 1 April 1945, Lt JOKINEN escaped from this column and reached the Allied lines at JAGSTHAUSEN, GERMANY (S-2680) 6 April 1945 at Co "C", 255 Inf, 63 Div, 7 Army.




French Helpers listed in Escape & Evasion Report EE-2943:

Escaped from POW Column, No Helpers listed in EE Report,


See E&E Reports for general information.
---
MACR 13154 Details



Notes:
A/C Seen to Crash. Lost as a result of Enemy Anti-Aircraft.

Description:
Four planes were presumed to be lost to flak when they failed to return to base. The planes went down in the vicinity of the PPF IP, northeast of the town of Bingen. Two planes went down in the vicinity of the target. ... No chutes were seen to emerge from any of the planes that were lost. The crews are all listed as MIA. ... #237 received a direct hit in the right wing and was seen to hit the ground in flames near Bingen. The crew was Lt W.B. Jokinen and Sgt E.J. Creeden.
(416th BG History 1945)

See also Mission # 239
---
Photos and Documents

1920 US Census

Passenger List
Return to USA
06-Sep-1924

1925 NY Census

1930 US Census

1940 US Census

WW II Draft Registration
01-Jul-1941

WW II Draft Registration
01-Jul-1941

Newspaper Clipping
The Palm Beach Post
27-Jun-1943

William Jokinen

William Jokinen

L-R: Lts. William R. Jokinen and Joseph J. "Joe" Lackovich

Newspaper Clipping
Nassan Daily Review
07-Aug-1945

WW II Honoree
---
See Also:
Prisoner Of War (POW) Camps
Escape & Evasion (E&E) Reports
POW/E&E Terms and Acronyms
POW/E&E Sources, References, Resources