416th Bombardment Group (L)
669th Bombardment Squadron (L)
History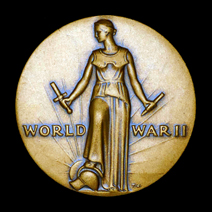 Return to Table of Contents
---
The 669th Bombardment Squadron Light was activated as one of the four component Squadrons of the 416th Bombardment Group Light on 5 February, 1943, without personnel, at Will Rogers Field, Oklahoma. The authority for the organization of this Squadron is found in General Orders #3, Headquarters Army Air Base, Will Rogers Field, Oklahoma, dated 4 February, 1943.

The original transfer of personnel was made on 15 February 1943. Sixtyeight (68) Enlisted Men for the 51st Bomb Sq (L) of the 46th Bomb Gp (L) and Capt. Raymond T. Schlanser were assigned to the Squadron in Special Orders #46. The first Group Special Order relieved Capt. Schlanser of command and appointed Captain Robert F. Price Commanding Officer. Eleven other Officers were assigned to the Squadron by this same Special Order.


669th BS Fuselage Code: 2A

669th Bombardment Squadron (L) History
5 February 1943 to 31 October 1945
Transcription from USAF Archives (Declassified IAW EO 12958 and 13526)
See also PDF versions of Transcription and Original pages.

(Note: Depending on Internet speed, PDF files may take some time to download and display.)
---
See also:

669th Bomb Squadron
Memorials
Operations
Personnel
Missing/POW
Non-fatal Injuries

All 416th Bomb Group WWII Military Service
Fatalities
Missing/POW
Non-fatal Injuries